I've never been a big fan of virtual desktops. They've been a longtime feature on Linux, though not on Tiger, so when Leopard came out with Spaces, I was indifferent. However, I stumbled across a couple of virtual desktop applications for Tiger and decided to take a look at all the fun I was missing.
The first I tried was
VirtueDesktops
: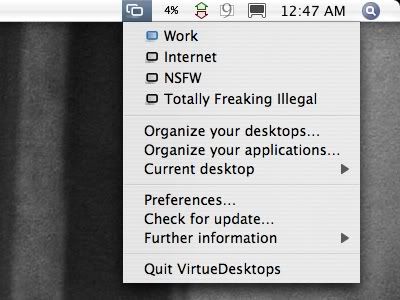 Development was halted with the arrival of Leopard, but it still works on Panther and Tiger systems. On my Tiger install it seemed stable but incomplete. The preferences weren't as intuitive as I'm used to, and there appeared to be a pager feature that I couldn't get working. But for simple desktop switching (with hotkey support) it worked well.
The second Spaces alternative is
Desktop Manager
:
Development seems also to have halted, but it's very polished. Transitions are the same as VirtueDesktops, slide and cube, etc. However, Desktop Manager has a pager in the menubar for quick switching with the mouse, hotkey support, and also has an optional pager for the desktop.
All in all, I liked these little apps, but it's not enough to convince me to switch to multiple desktops. My word processing / browsing / email are so wrapped up in each other I like having the whole mess of them all on one screen. But if you want a little more organization in your life, go for it.